On this page, a frequently updated selection of reviews, posts and articles about "New York in the 1990's Photo Archives" found on various worldwide internet sites and blogs.
Please also see:
------------------------------------------------------------------------------------------
Gothamist review
For a while now Gregoire Alessandrini has been sharing photos from his personal archives, all of which were taken during the 1990s while he was a film student in New York City. His latest collection features street shots from Harlem to Astor Place to St. Marks Place, and make the 1990s seem so far in our past. Click through for trip back to that time... when Williamsburg was filled with artists, we were just getting to know Chloe Sevigny, and actor Justin Kirk was in a power pop band.
Photos: 1990s NYC, From Mohawks To Smashed Up Cabs
"I was born in 1968 in Paris, France. Growing up with parents working as rock critics in the 70's. I was in contact with both worlds of music and movies at a very early age. I wish I could remember Blondie, The Rolling Stones or David Bowie's concerts seen from the top of my dad's shoulders! As a pure breed Parisian, New York City had always seemed an obvious destination for me. A place I felt I already knew through a personal exploration of American movies, rock vinyls, art and photography books.




I finally had the chance to go to NY to become a film student and I started exploring the city from one end to another…always carrying my old Nikons with me. 'New York, just like I pictured it!' was a perfect sounding line when I discovered Manhattan for the first time in the late 80's. Just what I had imagined…and so much more! And the year I was supposed to spend in NY finally turned into 8 amazing years!




I guess I had the intuition of being the witness of a vanishing world. Here and there, one could see the remains of a golden era, of a certain idea of New York. A mythical time, where one could stumble into Basquiat, Patti Smith or Debbie Harry at the corner deli.




The city had obviously tremendously changed since the 70's and 80's. Last September, I was shocked to see how much the Lower East Side (the "bad boys playground" at the time) had changed. In late 2012, I remember being dropped off by a yellow cab on Bowery and looking for... Bowery!"
His photos were taken between 1991 and 1998, and he's been scanning his old negatives and colored slides—kept in an old suitcase for almost 20 years—for his site. You can check out his archives here. [via EV Grieve]
---------------------------------------------------------------------------------------------
April, 3rd 2014
[
East 5th Street
]
Gregoire Alessandrini has once again updated
his excellent blog, New York in the 1990's Photo Archives
...
We thought we'd share a sampling of his latest uploads here from the early 1990s...
[
East 7th Street
]
[
St. Mark's Place
]
[
Second Avenue
]
[
Astor Place
]
Spend the rest of your day checking out all his photos
here
.
Some background: As a student here in the early-to-mid 1990s, he always carried a camera around with him ... and he has been uploading the photos from that time to his blog. He lives in Paris these days.
----------------------------------------------------------------------------------------------------------------------------------------------------------------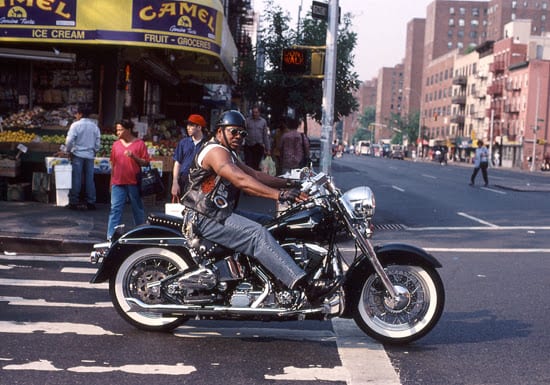 À faire, à voir, à lire ce week-end
© Grégoire Alessandrini.
À cliquer
http://www.fisheyemagazine.fr/a-faire-a-voir-a-lire-ce-week-end-14/
1.
Avant de prendre en charge la direction du service de production vidéo chez Louis Vuitton,
Grégoire Alessandrini
a étudié le cinéma et la photo à la City University of New York dans les années 1990. De sa vie new-yorkaise, il a gardé des cartons de photos argentiques, prises au gré de ses balades entre Harlem et Coney Island, qu'il numérise et publie aujourd'hui
sur son blog
. Un joli aperçu de la Grosse Pomme, capturée à mi-chemin entre l'imagerie graveleuse des seventies et la carte postale proprette d'aujourd'hui.
New York in the 1990's special feature in street photography online magazine "The INSPIRED EYE" ! Exclusive portfolio and interview. See it here

A film student in New York in the 1990s, Gregoire Alessandrini shot hundreds of photos that he has since digitized on his blog. Now a fashion exec living in Paris, Alessandrini continues to update his site with new images, which are often black-and-white, appropriately moody, and capture then-seedier neighborhoods from Meatpacking to Times Square. The chill of winter led him to remember a visit he paid to an empty Coney Island in 1995, which "felt like discovering a ghost town... Even if it was impossible to tell which rides were still in service, the freak shows, the old-time roller coasters and Nathan's hot dogs were still there as reminders of a glorious past." A far cry from the shiny new plans for an amphitheater there, is it not?
---------------------------------------------------------------------------------------------------------------------------------------------------------------------
Vintage Photos: 1990s Street Art Murals in NYC by Gregoire Alessandrini
East Village, 1990s
In 1990s New York City, photographer Gregoire Alessandrini documented the streets of the city through his eyes as a young film student and writer. His photos of the Meatpacking District, Times Square, Celebrities, Coney Island and iconic diners of the 1990s have previously been featured in our Vintage Photo column. In his newest post, he presents photos of murals and graffiti in different neighborhoods of the city, giving us a glimpse into the street art of the time. An interesting pattern is how prominently some of the large brands like Coca Cola, Quick, Newport Cigarettes figured in street art, whether commissioned or spontaneous.
Houston Street
The large walls on Houston have long been a popular advertising site for fashion brands like DKNY, Calvin Klein, and now Hollister. A fun fact: The bare walls exist because
Houston Street used to be a narrow road
like those in Soho, and was widened.
East Village
While the East Village and Alphabet City has certainly changed substantially over the past few decades, it still retains some culture of its past. These days, it's still possible to have
a secret street art show in an abandoned building
or visit
the longest continually running tattoo shop in Manhattan
. Street art is also officially commissioned in some places, like the
rotating street art hotspot at Bowery and Houston
.
Alphabet City
Slower to gentrify than the East Village, Alphabet City is surrounded with gems like the 2Bn2C sculpture garden

and a pop up gallery like this one in a Bodega's beer storage. But what did it look like in the 90s? Here's a glimpse:

For more photos of murals and graffiti and the rest of New York City in the 1990s, visit Gregoire Alessandrini's blog.

-----------------------------------------------------------------------------------------------------------------------------------------------------------------------
They Were Cheap So You Could Be Too: Photographs Of 1990s Times Square Sleaze
In his now seminal ode to Times Square porn theaters and its importance to queer men of the era, Times Square Red, Times Square Blue, Samuel R. Delany describes the lurid landscape of Times Square, writing, "it was peep shows, sex shops, adult video stores and dirty magazine stores, massage parlors–and porn theaters" (14).
Yesterday, Jillian Steinhauer at Hyperallergic asserted in an article on Edmund V. Gillon's photos of 1970s and 1980s New York, which, let's be honest, were a bit snoozy, "We heart old NYC porn." Well, kweens, so do we except we mean literal "old NYC porn," gawking at the last days of depravity captured in Gregoire Alessandrini's photographs of 1990s Times Square sleaze.
From Show World to The Deuce to Peep Land and The Playpen, Alessandrini's photographs document Times Square's "adult" businesses in a state of flux, closing down to make way for the Disney-fied Times Square Redevelopment Project.
Born in Paris, Alessandrini began photographing New York after his arrival for film school in the 1990s. Carrying his Nikon wherever he went, Alessandrini remembers, "At the time, I didn't pretend to be a professional photographer but I guess I had the intuition of being the witness of a vanishing world. Here and there, one could see the remains of a golden era, of a certain idea of New York."
Not only did Alessandrini photograph Times Square's wonderfully perverse peep shows and porn theaters, but he also focused on colorful graffiti murals, worn signs and Lynchian diners, which can all be found on his blog where prints of all the images can also be purchased.
Despite the range of Alessandrini's photographs, I, as a connoisseur of neon-tinged sleaze aesthetics, was particularly drawn to Alessandrini's multitude of images of 42nd Street.
While Alessandrini's photographs capture several theaters still open for curious patrons, these photographs are certainly not from the heyday of Times Square sex. After the booming 1970s and 1980s, Alessandrini's Times Square appears a little sparse as many of the gay movie houses were shuttered by a health ordinance in 1985, using the threat of HIV/AIDS as an opportunity to rid the city of spaces of predominantly queer sexuality.
Even though Alessandrini's photographs portray the period of Times Square right after this ordinance and during the Times Square Redevelopment Project, that does not mean these photographs are not fascinating. Why, tired and past its prime is an aesthetic we like to celebrate at Filthy Dreams.
Like Tennessee Williams' short stories set in the desolate Joy Rio theater, these photographs of 1990s Times Square depict a strange sort of destroyed and decadent beauty. I can't help but imagine some worn-out old man like Mr. Krupper from Williams' Hard Candy shuffling into one of these theaters to find redemption through sleaze and maybe a hustler.
Even more than my peculiar obsession with the aesthetic of Times Square, these theaters and other adult businesses undeniably played an important role in queer sexuality and life for decades. As Delany discusses in Times Square Red, Times Square Blue, the porn theaters, peep shows, adult bookstores and sex shops were all places where sexuality, namely queer sexuality, could flourish outside of the policing gaze of heteronormativity. While these locations were not necessarily the preferred place for many women to experience and explore sexual freedom, the darkened theaters became a place where many queer men flocked for anonymous sex and contact that transcended boundaries of class, race and ethnicity.
As Delany similarly explains, "In the 42nd Street area's sex theaters, specifically, since I started frequenting them in the summer of 1975, I've met playwrights, carpenters, opera singers, telephone repair men, stockbrokers, guys on welfare, guys with trust funds, guys on crutches, on walkers, in wheelchairs, teachers, warehouse workers, male nurses, fancy chefs, guys who worked at Dunkin Donuts, guys who gave out flyers on street corners, guys who drove garbage trucks, and guys who washed windows on the Empire State Building" (15).
In addition to the queer significance of these porn theaters and their sordid aesthetics, one of my favorite parts of Alessandrini's photographs are the appearance of Jenny Holzer's text-based installations, which were created with Creative Time, placing selections from her "Truism" and "Survival" series on the empty marquees of these disappearing theaters. While I know no one was entering these theaters at this point, Holzer's evocative and provocative phrases such as "What urge will save us now that sex won't" and "Men don't protect you anymore" make me picture confused theater patrons blinking wearily at the signs, wondering if they were, in fact, the new feature of the day.
Speaking of art and Times Square, many contemporary artists from Scott Ewalt's devil-filled paintings featuring these lost Times Square relics like the Gaiety Burlesque and Show World to Scott Treleaven's more subdued and abstract tributes to the coded sexualities performed inside these theaters are now looking to this era of Times Square sleaze as a source of artistic inspiration.
With this added interest in disappeared Times Square, Alessandrini's photographs become more and more artistically relevant. As he exclaims, "More reasons for me to keep scanning my old negatives and color slides kept in an old suitcase for almost 20 years!"
Phew…I've certainly done more than my share of obsessing over the depravity and decadence of 42nd Street so I think it's time to let the photographs do the rest of the work themselves. So sit back, smuggle in a brown bag of the liquor of your choice, maybe a few tissues and revel in some of the final days of Times Square filth:
------------------------------------------------------------------------------------------------------------------------
Vintage Photos: Coney Island in the 1990s by Gregoire Alessandrini
In 1990s New York City, photographer Gregoire Alessandrini documented the streets of the city through his eyes as a young film student and writer. His photos of the Meatpacking District, Times Square, Celebrities, and iconic diners of the 1990s have previously been featured in our Vintage Photo column. In his newest post, he presents photos of Coney Island in the winter of 1995, giving us a glimpse into the deserted skeletal frame of Coney Island in the winter.


Built in 1920, the Wonder Wheel has been the main attraction of Deno's Wonder Wheel Amusement Park since its inception the same year. In 1989, the wheel was designated as a historical landmark.
As Alessandrini writes,


"Walking in the deserted streets of Coney Island on this 1995 winter day felt like discovering a ghost town…Even if it was impossible to tell which rides were still in service, the Freak Shows, the old time roller coasters and Nathan's hot dogs were still there as reminders of a glorious past."
Distanced pictures of an empty Coney Island icon, the Thunderbolt.
Photos of the original Nathan's Famous hot dog stand. The facade has changed little since first opening in 1916.

--------------------------------------------------------------------------------------------------------------------------------------------------------
Fantastic Photos of Iconic New York City Diners During the 1990s
You can't beat a good diner and a strong cup of coffee. In the city that never sleeps, they're essential. New York City diners have become part of the pop culture fabric, featured in movies and television alike, and photographer Gregoire Alessandrini has captured several great Big Apple diners during the 1990s. "I'll always miss the Moondance, which to me was a real part of SoHo and the West Broadway area of the '90s," the artist related to us in an email. On Friends, the Moondance doubled as Monica Geller's (Courteney Cox) place of work — the exterior shots, anyway. Alessandrini is also a fan of the abandoned Lost Diner, since the name reminds him of David Lynch's Lost Highway (and who can forget the diner scene in the director's Mulholland Drive?). A number of the diners featured here have since been demolished or left to decay, but Alessandrini's images capture them in all their greasy spoon glory. To purchase prints of these beauties, which we first spotted on Kottke, visit the artist's website.
Gregoire Alessandrini has been capturing New York City via photography for decades, providing a particular style of visual commentary on street culture. Alessandrini's collection of graffiti, street art, and mural photographs through the '80s and '90s is like a time capsule—scrolling through his blog is the equivalent of flipping through a catalogue of vintage New York City.
Particularly interesting is the timeline Alessandrini provides of the New York graffiti scene. Rough '90s throw-ups and tags along with pointed commentary on the American Dream come to light in the grit of Alessandrini's street photography. Through his images, the artists connect the dots between street art and street culture. Take a trip back in time with 25 Vintage Photographs of New York City Graffiti in the '90s.
----------------------------------------------------------------------------------------------------------
En fantastisk samling billeder af diners i New York i 1990'erne. Mange af dem er lukkede i dag. En hyldest til fed mad og udrikkelig kaffe.
------------------------------------------------------------------------------
NYC diners in the 90s 
JAN 08 2014
It closed shortly before we moved and I never got to eat there again. At the time, word was some condos were being built on the site, but it took ten years for construction to start. What a waste.
BTW, the rest of Alessandrini's site is well worth a look...hundreds and possibly thousands of photographs of NYC from the 80s and 90s. (via @UnlikelyWorlds)
---------------------------------------------------------------------------------
These Photos Show The Last Days Of Old, Sleazy Times Square
New York's 42nd Street has transformed in recent decades from a den of drugs and sex shops to a flashy tourist hub filled with chain stores. People have mixed opinions about whether this was good.
French photographer Gregoire Alessandrini shared some photos of the area during the most dramatic transformation, in the 1990s.
"Some of the photos featured here were taken a few months before all the theaters went down ... The strip shows and peep shows, the porn theaters (Show World, Peep Land, The Playpen, etc.) before they were gone and as destruction had just started, as well as the first signs of the total transformation of this great New York area," he writes.
Gorgeous Photos Of New York's Classic Diners Before They Disappeared Forever
New York's restaurant scene is thriving, and there's more variety of food available today than ever before.
However, some longtime New Yorkers will argue one important component has begun to disappear: the classic diner.
In the last decade, many of the city's original railcar-inspired, chrome-and-neon-clad restaurants have either been demolished or relocated to cities across the country. Though some remain, there just aren't as many classic joints where you can satisfy your craving for greasy sandwiches and eggs at all times of the night.
French photographer Gregoire Alessandrini took these photos of some of New York's few remaining diners when he came to the city in the 1990s.
Gregoire Alessandrini
The Moondance Diner was built near the Holland Tunnel on Sixth Avenue in the '30s and made appearances in "Friends," "Spider-Man," and "Sex and the City." In 2007 the struggling restaurant was bought and transplanted to a small town in Wyoming, where heavy snow and ice in its first winter caused the decades-old roof to collapse. The owners were forced to rebuild much of the restaurant, and the Moondance closed once and for all in 2012.
Gregoire Alessandrini
Jerry Lewis and David Letterman were once regulars at the Cheyenne, the diner that was hauled away in two pieces to Alabama in 2009. Years later, the Western and Native-American themed restaurant still has no permanent home, while its original site on 9th Avenue will soon be developed into a 13-story mixed-use building.
Gregoire Alessandrini
Chelsea's Empire Diner was a haven for quirky artistic types for 34 years until its closing in 2010. Chef Amanda Freitag is planning a still-unnamed restaurant in the space, which was briefly known as the Highliner after the Empire's closing.
Gregoire Alessandrini
The popular Market Diner, on the corner of 43rd Street and 11th Avenue, reopened under new management in 2009 after being closed for more than two years. Frank Sinatra allegedly used to hang out here, and in one episode of "Seinfeld" the gang comes to the diner in search of black-market shower heads. Here's what it looked like in the '90s.
Gregoire Alessandrini
Gregoire Alessandrini
The Jones Diner at the corner of Lafayette and Great Jones Streets had dirt-cheap $3 breakfast specials that catered to the factory workers who had eaten there since 1938. It officially closed in 2002.
Gregoire Alessandrini
Cuban-Chinese restaurants like Sam Chinita (also known as "Mi Chinita" or "La Chinita Linda" at different points in the restaurant's history) were not uncommon in the 1960s, when Chinese people fled Cuba at the beginning of Fidel Castro's reign.
Gregoire Alessandrini
The River Diner, on 11th Avenue (Diner Avenue) and 37th Street, was demolished in March of 2004.
Gregoire Alessandrini
This particular spot was known by several different names — the Terminal Diner, the Lunchbox Diner, and perhaps most fittingly, the Lost Diner — before it closed in 2006.
Gregoire Alessandrini
---------------------------------------------------------------------------------------------------------
December 21, 2013
Take A Step Into The Old New York With These Amazing Photos Of NYC From The 1990s
New York City is known for a lot of things. Whether it's the bustling city streets, the sketchiness, the fact that it never sleeps or all of the above, there's no denying that NYC has what it takes to be considered the greatest city in the world.
Gregoire Alessandrini, a photographer and French fashion executive was able to capture New York in its true beauty back in the 1990s. The collection is outstanding and features photos of the Big Apple like you've never seen before.
Check out the photo collection below!
---------------------------------------------------------------------------------------------------------------------------------
Where Can I Get A Burger `Round Here'
Almost as if he planned it, the great Gregoire Alessandrini of New York City 1990s just put up a new post wherein he showcases several since-vanished NYC diners of old, notably the Lost Diner, the River Diner (where that scene in "After Hours" was shot), the great Cheyenne Diner in Hell's Kitchen, the Great Jones Diner (below -- which I spoke about here), the Moondance Diner (which I've written about a couple of times), the fabled Market Diner (former hangout of the infamous Westies and fleetingly later a disco called Big City Diner in the early 90s) and much more. Check it out. It's entirely awesome...
---------------------------------------------------------------------------------------------------------------------------------------
Incredible Photos From When New York's Hip Meatpacking District Was A Creepy Industrial Wasteland
The Meatpacking District hasn't always been the hot nightlife destination it is today.
Before hip designers like Diane von Furstenberg and Alexander McQueen opened flagship stores there in the late 1990s, the area was seedy, desolate, and it wasn't exactly aging gracefully.
Since the mid-1800s, meat markets and slaughterhouses had filled the neighborhood, roughly defined as the area bordered by Chelsea Market to the north and Horatio Street to the south on Manhattan's West Side.
According to the Meatpacking District Improvement Association, 250 slaughterhouses and packing plants populated the area by the turn of the 20th century. By the 1930s, these distributors produced the country's third-largest volume of dressed meats.
Today, only five remain, and they're all located in the Gansevoort Market Co-op between Washington and West Streets, though the entire area was granted historic status in 2003.
French photographer Gregoire Alessandrini first came to New York in the late '80s and was amazed to find a city changing before his very eyes.
"At the time, I didn't pretend to be a professional photographer but I guess I had the intuition of being the witness of a vanishing world. Here and there, one could see the remains of a golden era, of a certain idea of New York," he said in a bio shared with Business Insider. "Just like if the city was waking up with a bad hangover from all the past parties and eccentricity."
Gregoire Alessandrini
The streets were grungy and desolate in the 1990s.
Gregoire Alessandrini
There were still plenty of signs of the area's slaughterhouse past.
Gregoire Alessandrini
According to Vanishing New York
, meatpacking operations at Atlas Meats and Industrial Foods stopped in 2009 when the High Line and the Standard opened nearby.
Gregoire Alessandrini
The building was demolished in 2012, to be replaced by a
controversial glass office
structure overhanging the High Line.
Gregoire Alessandrini
As slaughterhouses closed, street art began to crop up on their walls.
Gregoire Alessandrini
The beams that stretch out over the sidewalk here were originally built to keep butchers' wares from spoiling in the sun.
Gregoire Alessandrini
Gregoire Alessandrini
The Meatpacking District, and its Triangle Building in particular, were
hotbeds of illicit activity
, much of which took place in underground sex clubs like Hellfire and the Vault.
Gregoire Alessandrini
--------------------------------------------------------------------------------
Everybody loves vintage street photography, especially when it's from New York City. Every decade has its distinctive taste; I personally love the Seventies. But what about the Nineties? Oh dear, those years! Only twenty something years ago! But can you remember what was it like on the streets of New York City?
Gregoire Alessandrini—currently working as an Audiovisual Executive Producer for Louis Vuitton—was a film student in New York in the 1990s, and he took his Leica camera with him everywhere he went to document the sparkling city life. Now he is running a great blog, called "New York City in the 1990s," based on his personal photo collection.
Images of lost landmarks, transformed locations, street parties, the meat market, 42nd Street, old diners, signs and grafitti, New Yorkers and sidewalk scenes, Halloween, Gaypride, Wigstock and so on—all of these moments are ultimately interesting to see through Alessandrini's lens. Here is a selection of his photos for you to remember—and to be amazed—at how everything has changed or, in some cases, stayed surprisingly the same.
------------------------------------------------------------------------------
Vintage Photos: Celebrities in 1990s NYC by Gregoire Alessandrini
Actor Samuel L. Jackson spotted during a music video shoot in Brooklyn.
Photographer Gregoire Alessandrini, who we've previously featured in our vintage photo column on the Meatpacking, Times Square and Iconic Diners of NYC posts, has recently shared photos he snapped of celebrities in New York in the 1990s on film sets and at events. "As a film student and a young writer/photographer in the 1990′s, I always carried a camera with me," he describes, and his website is a treasure trove of images of a bygone New York. Today, Alessandrini is an executive audiovisual producer at Louis Vuitton in Paris.
Director Spike Lee filming a music video at Yankee Stadium.
Albert Hughes and Allen Hughes, known professionally as the Hughes Brothers, directed Menace II Society and From Hell.
Actress Jennifer Jason Leigh at the New York Film Festival.
Model and drag queen RuPaul with a crying infant at his book signing of Lettin' it All Hang Out.
David Hinds, lead vocalist of reggae band Steel Pulse, with talk show host and civil rights activist Al Sharpton.
Actor Gerard Depardieu, who has completed about 170 films since starting in 1967, at a movie premiere.
The Godfather of Soul, James Brown, on the set of NY Undercover.
---------------------------------------------------------------------------------
CURBED NEW YORK
[All photos © G. Alessandrini via his blog, New York in the 1990's.]
Much the same way the Twin Towers could be viewed, or merely glimpsed, in different vistas all over the city, so too is the case with its tallest-building-in-the-world predecessor, the Empire State. French fashion exec Gregoire Alessandrini, who took hundreds of photographs of New York when he was a film student here in the 1990s, compiled his favorite shots of the ESB. What's in the foreground of his shots, from girly shop signage to run-down trash heaps, is as telling as the goliath in the background that pokes above all its neighbors. The landmark celebrated its 31st birthday on the National Register of Historic Places yesterday, which is about as much of an excuse as we need to take a gander a bunch of ganders at the Art Deco skyscraper.